Recipe: PT Peter Mac's workout-boosting trail mix
Almonds are the perfect snack for working out, says celebrity personal trainer Peter Mac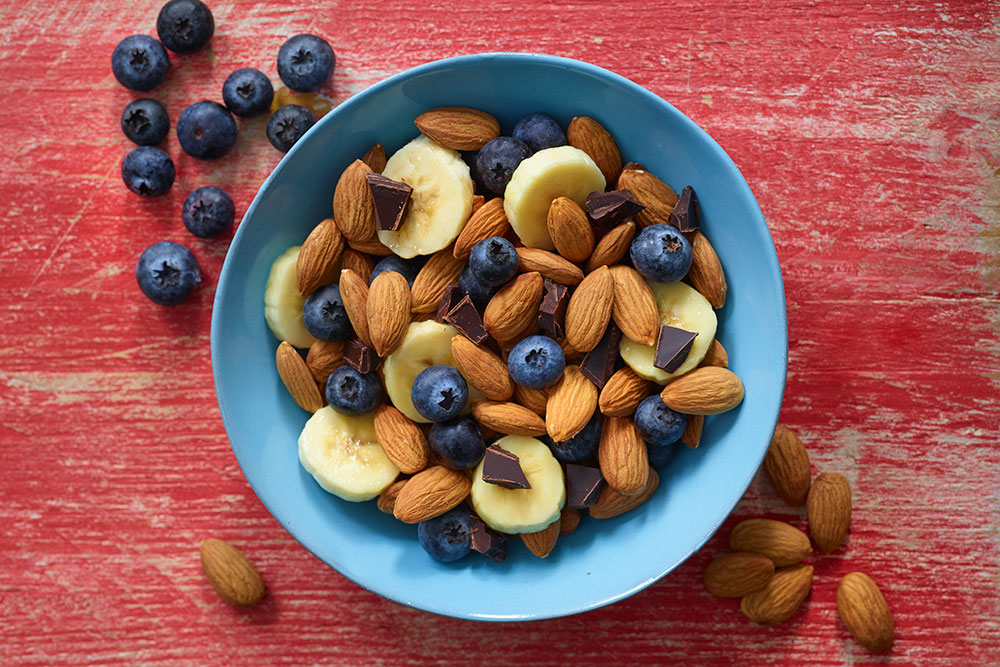 If Peter Mac's Instagram game is anything to go by, the secret of his success is making fitness fun. Celeb fans of his Primrose Hill based workouts and diet plans, like TV presenting power couple Marvin and Rochelle Humes, are shown breaking into laughter just as much as breaking into a sweat. So when it comes to food for fuel it's no surprise he favours fresh natural flavours over packaged and processed protein.
'At the gym, there are certain items that are acceptable if not obligatory. A water bottle, for instance, or a smartphone and earphones. 'However, there's one thing no one has ever truly nailed when it comes to working out: snacking. After all, you can hardly take a breather from the rowing machine to have a bag of crisps. 'However, there is one convenient snack you can pack in your gym bag to munch on before and after workouts – almonds. 'And, with 28g of these tasty nutritious treats containing around 160 calories, that's more than enough to keep you going right through a gruelling HIIT session.'
Fit tip: If you're feeling low in energy post-workout, a handful of these protein-rich nuts can help to tide you over until your next meal, as well as aid muscle recovery.
Peter Mac's simple almond trail mix makes for the perfect pre and post work out snack
A delicious energy-boosting on-the-go snack that can be pulled together in a couple of minutes: all you need is a handful of almonds (28g), blueberries, half a banana chopped up and a square of dark chocolate broken up and sprinkled on top 
Packed with healthy fats and minerals that contribute to a healthy energy-yielding metabolism, almonds are a smart choice before hitting the gym.