What's Your Chinese Medicine Personality Type?
Find out whether you're Earth, Fire, Water, Metal or Wood
Most people know Chinese medicine treats your physical health, but what many people don't know is that it can also treat your emotional and spiritual health. Thousands of years ago, it developed a system of psychology and personality typing that is remarkably accurate and applicable to our modern lives.
This side of Chinese medicine focuses on how your patterns of personality deeply influence the ways you tend to think, feel, and behave; provide unique talents as well as challenges; and reveal what you need to live a balanced life. Your personality type is like a map to guide you to success and happiness by finding the kinds of lifestyle, careers, and relationships that are a match for you, and how to align any life choice with your authentic nature.
In my new book, The Five-Element Solution, you discover which type you are, get strategies for solving your unique problems, and you can even try a five-week "reboot" to get your life moving in the right direction again. But you can receive valuable insights from even an overview of this ancient knowledge, as we'll do here.
There are five different personality types, based on the Chinese Five Elements: Water, Wood, Fire, Earth, and Metal. Each has different priorities, strengths, challenges, needs in relationship and natural abilities in career. We all have some of each of these characteristics in our nature, but usually there are one or two we strongly relate to. Have a look and see if you find one that makes you feel: "That's me!"
If you're a Water Element Personality:
Your priority in life: Freedom. You prefer to "flow" rather than be confined to tightly scheduled, highly structured days. Water people crave the ability to come and go as they please, and to do what feels right as the mood presents itself.
Your secret to success: Creativity. You're a creative thinker with an unusual approach to anything you do, and thus can bring new advances in your field. Water people are nonconformists who think outside the box and don't care about others' opinions of them.
Your challenge in life: Feeling like an outsider. You may feel very different from other people, or too easily feel left out or misunderstood. To overcome this challenge, always give yourself a "reality check," to know whether what you're assuming is actually based on fact.
What you need in a relationship: Emotional depth. You have an inner depth that most other people lack, so you need a partner who can meet you there. And you'll want a person who doesn't constantly chatter away – who understands your need for silence!
Occupations that are a fit: Innovative methods. Examples are musician, artist, scientist, healer, psychic medium.
If you're a Wood Element Personality:
Your priority in life: Progress. You're a lifelong student, always challenging yourself to learn and grow. Wood people are action-oriented, and do best if they feel in charge of their own destiny and have a sense of forward momentum in life.
Your secret to success: Drive. Wood people are driven to create positive change and make the world a better place. You focus on getting results, and will challenge the status quo, to create breakthroughs in old, outdated ways of doing things. 
Your challenge in life: Too much drive. In trying to achieve success, you can drive yourself too hard, leading to burn-out or harming relationships. Try to learn to enjoy the journey along the way instead of being so focused on the end goal.
What you need in a relationship: High energy. You need to stay active in life and you'll want someone who can keep up! And you'll want a partner who isn't overly emotional, needy, or who expects you to talk about your "feelings!"
Occupations that are a fit: Taking action. Examples are entrepreneur, physical trainer, lawyer, police officer, personal coach.
If you're a Fire Element Personality:
Your priority in life: Joy. You're a free spirit, with a great need for fun in life. Fire people seek stimulation and so tend to always have a lot of balls in the air because they hate to be bored! 
Your secret to success: Communication. You easily communicate your thoughts and feelings and are naturally warm and affectionate. Fire people love heartfelt conversations with another person, whether in a lifelong romance or 30 seconds in the lift.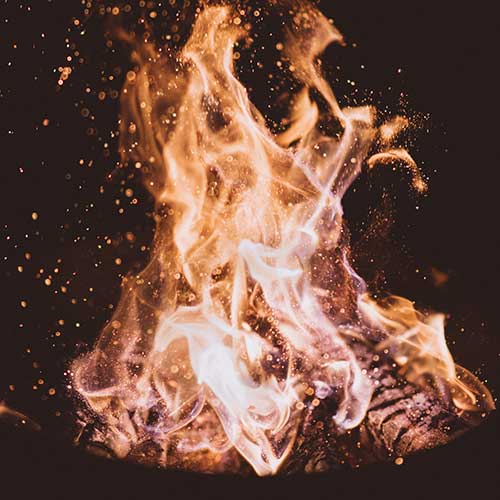 Your challenge in life: Emotional vulnerability. Your openness is wonderful, but you can be too open, letting someone into your heart before knowing them well enough, and the result can be heartbreak. Fire people benefit from letting a relationship develop gradually rather than diving in head-first.
What you need in a relationship: Emotional availability. Your feelings are close to the surface, so you need someone who's also in touch with their emotions. And you'll love a partner who always makes you feel special, plus understands your need to talk!
Occupations that are a fit: Creating excitement. Examples are performer, sales person, teacher, public speaker, marketing specialist.
If you're an Earth Element Personality:
Your priority in life: Relationships. You need lifelong bonds with people who feel like family to you. Earth people are true-blue friends – natural "givers" who are genuinely caring and responsible, and they find great fulfillment in helping people and being of service. 
Your secret to success: Kindness. You're an inherently nurturing person, offering thoughtful and compassionate support to anyone who needs it. A good listener, you let people tell you their problems and then help to ease their suffering. 
Your challenge in life: Boundaries. You may over-give, let people take advantage of you, or disregard your own self-care. To develop healthier boundaries, learn to say "no," and to be as kind to yourself as you are to others, doing things you enjoy without feeling guilty.
What you need in a relationship: Commitment. You value home and family and naturally form strong bonds, so you need a person who does the same. And you'll thrive when you find someone who wants to support you as much as you do them!
Occupations that are a fit: Helping others. Examples are teacher, nurse, therapist, real estate agent, nutritionist.
If you're a Metal Element Personality:
Your priority in life: Authenticity. You place great importance on living authentically and doing meaningful work. Metal people strive for a sense of the sacred in their life, and they tend to be the most humanitarian of all the types.
Your secret to success: Sensitivity. You're extremely conscientious and sensitive to subtleties, so your work is always beautifully done because you tend to details others wouldn't. You can also sense others' energy and naturally adjust your approach to put them at ease.
Your challenge in life: Perfectionism. You can be too self-critical, and anxious about doing everything right. Recognize that 50% of your usual effort is like anyone else's 200%! Learning the concept of "good enough" can be very helpful here. 
What you need in a relationship: Strong values. You have high principles so you need someone with that level of integrity and firm beliefs. You'll do well with a partner who can offer you a quality relationship, but also respects your need for privacy!
Occupations that are a fit: Precision work. Examples are acupuncturist, surgeon, accountant, graphic designer, fine artist. 
Chinese medicine discovered that there's an elegant plan for who you're meant to be, and a map for the territory you're meant to journey through in life. When you know how to follow that map, you'll find what you need to be happy – and know how to always be true to your nature.
Author Jean Haner has studied the spiritual principles of Chinese medicine for over 30 years, and is known for translating this ancient wisdom into practical solutions for modern problems. Her new book is The Five-Element Solution: Discover the Spiritual Side of Chinese Medicine to Release Stress, Clear Anxiety, and Reclaim Your Life. Jean teaches and consults internationally in how to use the Five-Element map to coach and counsel people. To learn more, please visit https://www.jeanhaner.com.
The Five-Element Solution, Jean Haner, Hay House Publishers, £13.99